The global fight against Covid-19 has defined pharma packaging as an essential business in critical infrastructure. According to Patrick Markschlaeger executive vice-president – Business Unit Tubing, Schott AG, the current situation is very dynamic because of the increasing demand for vials and vaccines, and this will continue for at least a couple of years. Schott is building its new second tank in Jambusar. To ensure its construction as per schedule, despite the restricted supply chain, is the most significant current issue for the company. "As the export of Indian pharmaceutical products increases, the demand for high-quality products like Schott will, therefore, also increase," he believes.
Schott, a leading international technology group in the areas of specialty glass and glass-ceramics, has played a vital role in the development of India's pharmaceutical industry by manufacturing high-quality pharmaceutical tubing products in Jambusar since 1998. The company offers a broad product portfolio, including ampoules, cartridges, vials, and syringes made of glass and COC polymer.
Covid-19 has caused considerable disruptions for companies worldwide. According to Markschlaeger, Schott is not experiencing any issues in production as such, but facing challenges to continue production with having to deal with government regulations and new circumstances every day. He explains, "Schott Tubing has put in place various measures to cope with the changing conditions. For example, we have a Schott Tubing taskforce that oversees and coordinates all activities of the regional site taskforces."
R&D, innovation & ToT
The company's R&D and innovation are in Germany, and know-how is transferred from Germany to other locations, including India. India is emerging as one of the biggest hubs in the field of pharmaceuticals, and this puts it among Schott's top ToT (transfer of technology) destinations.
Markschlaeger states that India has offered a great combination of technology and the right skill-set, "To make our Gujarat plant a world-class one." He adds, "As one of the primary suppliers in this space, we are immensely proud of our Make in India capabilities wherein our India plant is supplying top-notch products, comparable and equivalent to any other Schott plant across the world. All this has been possible not just because we have brought the technology to India, but also because of our India management team and skilled employees."
Extensive measures to maintain reliable supply
In a challenging situation, Schott is helping its customers by continuing the production of pharmaceutical tubing to maintain the supply chain. – Markschlaeger says, "The most important assurance that our customers require is that the supply chain does not break. As our customers handle the increasing demands for vaccines, we need to carry on with the production of tubing to cope with this situation and the increased demand of life-saving medicines. Indian pharmaceutical companies are being appreciated globally for their contribution to supplying Covid-19 related medicines and vaccines, and our responsibility is to keep up with the pace."
Hygiene and automation
Hygiene and quality standards are the most crucial part of pharmaceutical production. The medicines packaged in Schott's tubing are life-saving drugs. Therefore, whether in today's times or during normalcy, the company maintains the strictest hygiene. "In addition to what we usually do, wearing masks is now mandatory in all sections of our plant, including the administrative block. We ensure a healthy and safe distancing between employees."
Markschlaeger comments on the automation at Schott's production sites, "We have computerized systems to monitor the quality of products that are coming out of the production plants. At our plant in Jambusar, Gujarat, we have a highly automated production line. There is minimum human intervention when it comes to handling the equipment. At the same time, our employees are invaluable in maintaining and monitoring the machines and keeping a quality check."
India is all set to become the leader of pharmaceutical exports
India's domestic pharma market has been thriving for a long time already. Moreover, in the current scenario, Indian pharma companies are playing a significant role in the supply of medication to developed countries like the US and Germany. Markschlaeger believes that to keep up with the domestic as well as international demands, we should look up towards the leadership of the Indian government and rely on its assurance to support companies that are part of the entire supply chain.
He says, "It would be great also to see the Indian government play a more significant role in encouraging R&D and support upcoming talents and skills. Much is being done, and we feel with the right government support, soon, India will be at the very top."
Schott

 empowering technologies and skills in India
Schott's investment over the last two years in India underscores its commitment. The company believes that the main objective behind these investments is to improve its ability to supply high-quality products to the local Indian pharma companies.
According to Markschlaeger, this is key to helping the pharmaceutical industry benefit from high growth opportunities in the market. "Through our FIOLAX tubing manufacture, we now have Schott's most valued product made from scratch in our Jambusar plant. Our factory is also a model in maintaining world-class production plants, such as the quality and hygiene standards at the plant or our products. More importantly, we take pride that our employees identify themselves with the essence and legacy of Schott; this, for us, is the biggest assurance in empowering technologies and skills in the country," he affirms.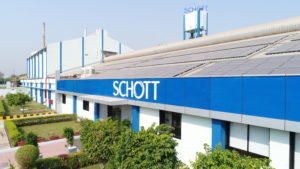 Global pharma looks to India – the need for better technical prowess, skills, and a robust government policy
Markschlaeger believes that Asia, especially India, is quickly moving towards being a pharma production hub for the entire world. With investmIndia, a vital in Schott's global strategyents close to Euro 47 million (approximately Rs 390 crore) in India over the last two years, Schott sees India as a vital cog in its global strategy. "As India moves towards being the biggest supplier of life-saving medicines, there is only going to be an upward trend. We are optimistic that this upward curve will be a sharper one soon," he adds.
In addition, he draws attention that this opportunity will also increase India's share of responsibility to maintain the highest quality standards globally, which further requires encouragement in the fields of training, R&D, and education. "As we climb higher on this curve, we will need better technical prowess, specialized skill services, and a robust government policy that form the very basis of our business," he adds.
"As a production hub for vaccines, India plays a significant role in the whole world. India's domestic market itself is thriving, but nowadays it is getting more important, also for the export. With the investment in our plant in Jambusar, we are doubling our production of highly specialized FIOLAX tubing material by 2020 for both domestic and export demands," he concluded.