As of 2 June 2020, the number of coronavirus cases in India rose to 198,317, with a death toll of 5,608. In this rapidly escalating scenario, the central and state governments are busy strengthening the health infrastructure to fight the Covid-19 pandemic and ensuring an adequate supply of critical medical equipment like ventilators. Several Indian companies and research organizations came together to ramp up production during the crisis with a nudge from the government. However, the critical challenge before for new and old indigenous manufacturers of this critical equipment remains quality.
What is a ventilator?
A ventilator is a mechanical device that takes over the body's breathing process helping patients to breathe when they experience trouble breathing on their own. For patients severely affected by the Covid-19 infection, a ventilator can offer a fair chance of survival as it gives the patient time to fight off the infection and recover.
Invasive and non-invasive ventilation
Invasive and non-invasive ventilation (NIV) differ in how the air is delivered to the patient. In invasive ventilation, the air is delivered to the patient via a tube that is inserted into the windpipe through mouth or nose. In NIV, the air is delivered through a sealed face mask that can be placed over the mouth or nose.
Invasive ventilation is the standard treatment used in Intensive Care Units (ICUs) for people who are suffering from acute respiratory failure to ensure oxygen levels in the body stay normal. NIV may offer some advantages over invasive in terms of the risks involved.
According to WHO specifications, all the invasive ventilators require well-trained medical staff to use and manage pressure-setting controls and alarms. The non-invasive ventilators do require health workers to take infection control measures to reduce the risk of infection with Covid-19. 
Ventilators update – demand and procurement
As of an 8 May 2020 CNBC report, in India, 4.7% of the Covid-19 patients were in ICUs, with 3.2% of on oxygen support and of these, 1.1% on ventilators. "About 80% of people recover from the disease without needing any special treatment. Every one out of six people who get coronavirus becomes seriously ill and develops difficulty in breathing. Elderly people and those with underlying medical problems are more likely to develop serious illness," states the WHO report.
Looking at the rising numbers, the concern remains, do we have enough ventilators to fight this pandemic? On 1 May 2020, PD Vaghela, chairman of the Empowered Group-3, stated in a press conference that as against the projected demand of 75,000 ventilators till June 2020, the availability was about 19,398. Orders for 60,884 ventilators had been placed by HLL Lifecare, a public sector unit under the aegis of the ministry of health and family welfare. Out of the total orders, 59,884 ventilators have been ordered from domestic manufacturers, and import orders make up the another 1,000 ventilators.
With the government is promoting domestic manufacture the major local players include Bharat Electronics in collaboration with Skanray, who are to produce 30,000 ventilators. Noida-based AgVa, in partnership with Maruti Suzuki, is to produce 10,000 ventilators and AMTZ (AP Medtech Zone) is expected to produce 13,500 ventilators.
AgVa is on its way to manufacturing the 10,000 ventilators that government-owned HLL Lifecare floated a tender for. With AgVa's ventilators costing Rs 1.5-2 lakh (the cost is a fraction of regular ICU-grade ventilators) per unit, the whole consignment was to be delivered by the end of April. However, according to reports, only 1,500 ventilators were delivered until 5 May. However, the problem is not merely the missed deadlines, because no other Indian ventilator manufacturer has yet been able to deliver a single ventilator. The concern with AgVa's ventilator is its non-FDA certification. Moreover, concerns have been raised on the quality of its delivered ventilators by the hospitals in Gujarat.
Meanwhile, on 14 May, Pawan K Goenka, managing director Mahindra & Mahindra tweeted, "Skanray and Mahindra ventilator, specially designed for coronavirus, is ready for production. Thankfully there is no demand."
US president Donald Trump promised to donate 200 ventilators to India in mid-May. The first shipment of 100 ventilators will reach early June. It is claimed that USAID will bear the cost of these ventilators. A government official told the Hindustan Times newspaper that the consignment will arrive by May-end or latest by early June. "Each of these mobile ventilators is estimated to cost $13,000 (Rs 9.6 lakh at current exchange rates) without accounting for the transportation costs. In all, the ventilators will cost about $2.6 million (or Rs 19.2 crore) plus freight charges," the official was quoted as saying.
Ventilator development in India
Biodesign Innovation Labs
Kritti Bhalla of Inc42.com, which covers start-ups in India, has written about several companies that are also adding their might to the development of ventilators designed to overcome the shortage and the high-cost and delivery time of importing these. She writes that Bengaluru-based Biodesign Innovation Labs is developing a portable ventilator called RespirAid for less-critical patients. These ventilators are meant only for stabilizing a patient during a respiratory arrest. The RespirAid works by mechanically providing intermittent positive pressure ventilation at parameters that have to be adjusted to the desired settings. The target price for the ventilator is said to be Rs. 50,000 to Rs. 70,000.
The company is moving from design, testing to commercialization, and serial production. It hopes to non-exclusively license its low-cost ventilator to larger Indian companies with engineering and manufacturing capabilities such as Tata and Mahindra. At the same time, Biodesign is to start production of the RespirAid at a level of 2,000 to 5,000 ventilators, with ambitions to ramp this up significantly to 10,000 to 20,000 perhaps in two or three months. 
Nocca Robotics
There are several levels of what are being described as ventilators from bag valve masks that help in breathing and adding oxygen, to non-invasive ventilators and the sophisticated machines that require intubation. Bhalla writes that Pune-based Nocca Robotics is one of the few Indian start-ups working on developing a low-cost invasive ventilator, likely to be useful in treating seriously ill Covid-19 patients. Nocca Robotics, currently working on the second iteration of its prototype ventilators, is incubated by IIT Kanpur, which is working closely with it on the project.
IIT Kanpur incubation center in-charge Amitabha Bandhopadhaya who is also one of the co-founders of Nocca Robotics said, "IIT Kanpur and Nocca Robotics have signed an agreement with Bharat Dynamics for manufacturing the ventilators on a not for profit basis for India initially, which is expected to make it available for about Rs. 1.5 lakh (approximately US$ 2,000) per unit."
At the same time, it is receiving help from the Indian Angel Network for financial and administrative assistance in raising funds and grants and getting the permissions for testing and approvals for manufacturing. Nocca Robotics planned to start the clinical trial of the ventilators by 29 April and, according to a subsequent PTI report, expected to ship its first ventilators in the first week of June. 
IIT Kanpur incubation center in-charge Amitabha Bandhopadhaya, who is also one of the co-founders of Nocca Robotics, said, "From 12 May, the testing will start in two Pune hospitals. These ventilators will also go through UL and TUV testing… We expect it to be available either by the end of May of the first week of June. We expect 10,000 units production by the end of July."
Apart from its low cost, the Nocca ventilator seems to have technical features not found even in high-end imported ventilators. The first is ultra-violet filter chambers to decrease the viral load of air exhaled by the patient, and the second is a battery back-up of four hours. PTI quotes Nocca Robotics co-founder Nikhil Kurele as saying, "We found that when a virus-infected patient on a ventilator breathes out, he exhales air filled with virus loads. This exhaled air fills the ICU with coronavirus, which is hazardous for health workers. In our ventilator, we have made ultra-violet filter chambers, which kill viruses, and place filters thereafter to free the exhaled air from viruses.
T-Works bag valve mask
The Telangana government's hardware incubator and prototyping organization, T-Works, has developed an affordable mechanical ventilator for emergency use. The open-source bag-valve-mask (BVM) ventilator is expected to cost Rs 65K to Rs 1 Lakh (approximately US$ 850 to US$ 1,400).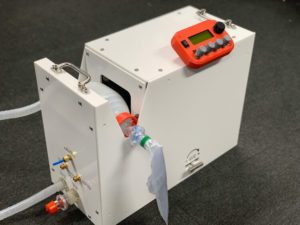 T-Works has collaborated with 20 start-ups and corporations, including Honeywell, Qualcomm, Apollo Hospitals, Sunshine Hospitals, and Prathima Hospitals, IIT Hyderabad, Mouser, and GE Healthcare, and Specteochem. The T-Works bag-valve-mask is useful for temporary uses of less-critical cases of the coronavirus.
Three Indian manufacturers selected to make NASA's ventilators 
NASA's Jet Propulsion Laboratory (JPL) in Southern California has selected three Indian manufacturers, Alpha Design Technologies, Bharat Forge, and Medha Servo Drives to make a new ventilator tailored for coronavirus patients. A list of 21 manufacturers who licensed to make NASA's ventilators include companies in India, the US, Brazil, Mexico, Australia, Egypt, UAE, Malaysia, Turkey, and Canada.
On 30 April, the NASA prototype created by its JPL engineers in just 37 days, received an Emergency Use Authorization from the Food and Drug Administration. According to NASA, the VITAL (Ventilator Intervention Technology Accessible Locally), is a high-pressure ventilator designed to use one-seventh the parts of a traditional ventilator. It relies on parts already available in supply chains and a simple, flexible design. It is claimed to be a more affordable and alternative option for treating critical patients while freeing up conventional ventilators for those with the most severe Covid-19 symptoms.
Safety is the priority
While the cost of the ventilator is a significant factor, the safety of the equipment is of utmost importance. Therefore, whoever is manufacturing ventilators should be aware of the clinical aspects of the medical equipment. Ventilators are a combination of technologies needed to safeguard lives. Consequently, it should comply with all safety standards and necessary certifications without posing any risk to patients and the doctors handling it.
(We are republishing this article from June 2020, simply for the record. We have changed the byline to reflect that it was jointly written by our editorial team.)